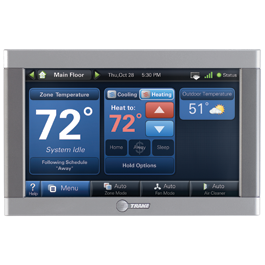 ComfortLink II 7-Day Communicating Programmable Control
The top of the line in Trane's control family, the ComforLink II is an advanced command center that integrates technology and comfort into your personal lifestyle like nothing else. The ComfortLink II features a high-definition color touchscreen, zoning capability, advanced scheduling, digital picture display capabilities, remote operation from most web enabled computers or smartphones and so much more. Best of all, it's a Trane, through and through.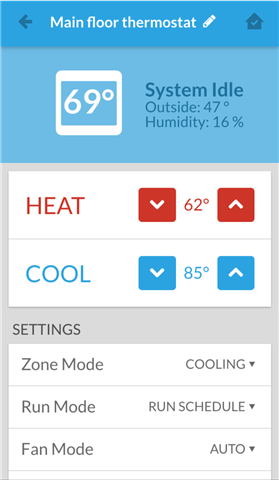 Trane + Nexia Connected Controls
Connect your home with a Nexia smart home system to experience the level of control you need and the peace of mind you want. The all-in-one Nexia app communicates with hundreds of smart home devices, so you never have to worry whether the doors were left unlocked or the garage door was left open. Paired with Trane's innovative ComfortLink™ controls, Nexia lets you adjust your home's temperature directly from your smart phone or other web-enabled device.
Adjust the Temperature
Come home to the perfect comfort setting. Raise or lower the temperature in your home remotely.
Set a Schedule
Reduce energy costs by setting up a schedule or putting your comfort system into an energy-saving mode when you're away.
Receive Alerts
Using Nexia Diagnostics, you and your HVAC technician can receive alerts to catch problems early before they become bigger ones.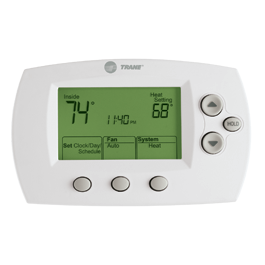 XL600 Series Programmable Thermostat
A 5-day/2-day programmable schedule makes it simple to program separate schedules for weekdays and weekends, custom-tuning your comfort to your lifestyle.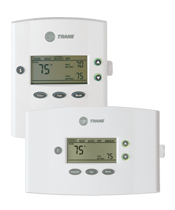 XR400/XB200 Series Non-Programmable Thermostat
Trane's durable, hardworking non-programmable thermostats provide large, easy-to-read numbers and one-touch control over your comfort. A slide-out compartment holds your dealer's business card for convenience.