The 95 Family of Gas Furnaces
Lifetime Heat Exchangers
Exceptional comfort even on the coldest days.
You depend on your furnace to take care of your home and family's heating needs. That's exactly why we build every Trane 95 gas furnace to be as durable and reliable as possible. Trane 95 furnaces are quiet and cost less to operate with a very high AFUE (Annual Fuel Utilization Efficiency). They are so efficient that over 95% of the fuel you pay for is actually converted into heat for you home. And the temperature control is precise, delivering a higher level of comfort. You get clean, comfortable air even when the weather outside is frigid.
XC95m
Quiet and efficient – the TRANE XC95m converts 95%, or more, fuel into heat, warming your home more cost effectively.
Features modulating heating, variable-speed blower motor and Comfort-R for more even comfort and energy savings.
Optional clean air setting improves the filter's ability to remove allergens from the air in your home.
Works in summer with your air conditioner and cooling coil to distribute cool air and dehumidify your home.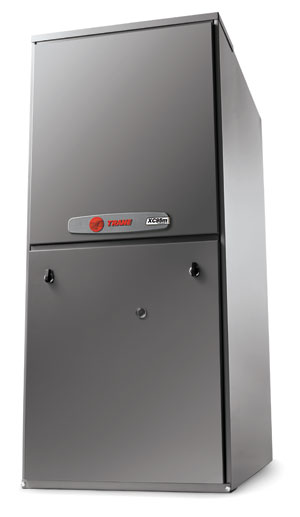 S9V2 Furnaces
Every Trane furnace is packed with high-quality components. Each helps ensure that time after time, your unit will provide total comfort your family can rely on. The S9V2 includes:
Re-designed cabinet platform to fit in tighter spaces
Variable-speed blower motor
Heavy gauge, two-tone powder-painted cabinet
Increased dehumidification with Comfort-R™
Stainless steel primary and secondary heat exchanger
Insulated cabinet for quiet operation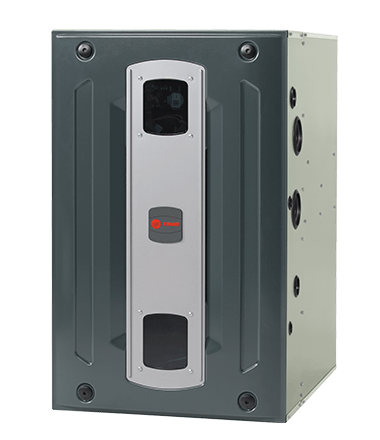 Industry-changing cabinet design
The S-series furnace cabinet is designed to accommodate virtually any home, and is certified to be airtight to less than 1%.
Efficient performance
The S9V2 is rated at 96% gas efficiency (AFUE), and the Vortica™ II blower is one of the most efficient in the industry, providing energy savings in both winter AND summer.
Comfortable, even heating
With stainless steel primary and secondary heat exchangers, and the ultra-efficient Vortica™ II variable speed blower, you can count on a consistent flow of warm, comfortable air with quiet operation.
Cleaner, healthier indoor air
Add Trane CleanEffects™ to your system for advanced air filtration that removes more dust, pollen and other irritants from conditioned air for a cleaner, healthier, more comfortable home.
Split System Heating
The XLi Family of Heat Pumps
Welcome home to the highest level of clean comfort.
XLi heat pumps are designed and engineered to meet rigid specifications, tested to assure excellent performance, and manufactured to last. Each unit is also designed to deliver exceptional reliability and energy efficiency all day, all night and for years to come. XLi heat pumps thoroughly condition your air, making your home environment ideal.
Trane matched systems: Take your XLi to the next level.
When you choose an XLi heat pump, you'll enjoy the utmost in consistent comfort. You can enhance its performance even more when you make it part of a Trane "matched system." A matched system is comprised of multiple Trane components, each of which has been designed and engineered to work seamlessly together to enhance overall performance for maximum efficiency and reliability. There is simply no better way to create your ideal home environment. Call Genes today to have a Qualified Trane Comfort Specialist give you a Free Estimate.
For more information visit trane.com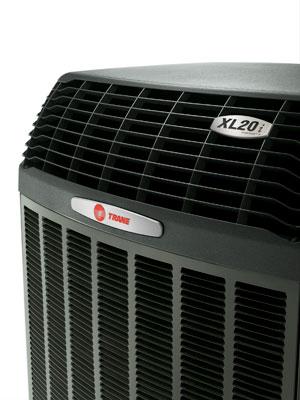 Trane Humidifiers
When the temperature plummets outside so does the relative humidity inside your home. The air inside your home feels dry and parched. It doesn't take long before you can see the results. Dry air absobs moisture from furniture, wood floors, woodwork, paintings and musical instrments. Static electricity is a frequent annoyance. And, if you or someone in your family suffers from allergies or asthma, dry air may aggravate their condition. The addition of a humidifier to your central heating and air conditioning system is the perfect remedy. Whether you live in an area with winter conditions or in an area where the climate is hot and dry, Trane humidifers are designed to add just the right amount of moisture so you can be comfortable.
For more information visit trane.com